The post today in Gaia Dwellings section is about the amazing pagan temple Newgrange in Ireland.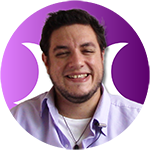 Hello! How are you? Do you already know my YouTube channel?
All content is free!
Visit the channel, subscribe and leave a comment there. I reply all!
Pagan Temple – Newgrange
Located in the Boyne River valley in Ireland, Newgrange catches everyone's attention for its incredible architecture. Surrounded by 97 stones, we can notice several spirals, a symbol of the
Triple Goddess
, embedded in several stones. The stone placed in the entrance is the one of greater prominence.
Another feature that makes Newgrange special is its alignment with celestial events and the
Wheel of the Year
. In the same way we get to know the exact position of the sun during
Solstices and Equinoxes
at
Stonehenge
, here in Newgrange, during the
Winter Solstice (Yule)
sunlight enters perfectly through a hole located above the entrance of the tunnel and illuminates the entire central region of the temple. Visits during Yule are made by lottery!Newgrange is 85 meters in diameter and 13.5 meters high. The main hall is 19 meters deep and at the end of it there are three alcoves. Once again we notice the triple nature of the monument. From the outside, the wall is lined with white quartz stones that glisten with sunlight.