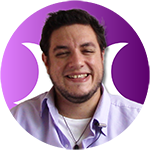 Santuário Lunar (Lunar Shrine) is a magic portal dedicated to the Goddess and her manifestations. Here you will find, in addition to the Goddesses, spell tips, witchcraft, book recommendations, games, places, music, the Wheel of the Year and the Sabbats, and much more!
Follow me around:
Visit our posts using the categories in the menu above or browse the items below.
Meet the goddesses
Visit the Goddess section to learn about her manifestations around the world
Study and learn about witchcraft
Visit the "Spells | Studies" section to learn about Witchcraft and Paganism and also to learn some practical spells!
The Wheel of the Year and the Sabbats
Learn all you need to known about the most popular Pagan Calendar of all!
Enjoy the free content of Santuário Lunar
Visit our Free Oracle
Concentrate, flip the card and get a message from a Goddess!
Free EBOOK on KINDLE UNLIMITED
Download the ebook "The Wheel of the Year and the Sabbats" for free for Kindle Unlimited Users. Not a user yet? Get 30 days for free using our links!
Free EBOOK in PDF
Download "The Book of Moon Spells" for free in PDF format!