Last Updated on / Atualizado em
by DanFF
Attributes: Goddess of the fresh water of rivers, love, feminine power, beauty and wealth
Symbols: Crown, fan, mirror, bow and arrow
Place: Africa
Also called "Lady of the Gold", Oxum is a female Orisha, daughter of Iemanjá and Oxalá. She is the most beautiful and vain Yorubá Goddess and she is also very generous and dignified. She is the owner of women's fecundity and treats all her children and devotees as true jewels.
One of her most famous stories is how she got the gift of divination. Oxum wanted to know the secret of the game of shells that belonged to Exu, but he did not want to reveal it to her. Determined to learn, she went to the forest to find some sorceresses who taught her magic in exchange for offerings for every spell performed.
Once the deal was done, Oxum returned to Exu, closed her hand and challenged him to find out what she had between her fingers. When he lowered to see her hands better she blew a magic dust from that blinded him and made his eyes burn a lot. Exu screamed in pain and said; "I can not see anything, where are my shells?" Oxum, pretending to be concerned, answered, "Búzios? How many are they?" "Sixteen," replied Exu, rubbing his eyes. "Oh, I found one, it's big!" "It's Okanran, give it to me." "I found another one, it's small!" "It's Eta-Ogundá, come here …"
In this way she discovered all the secrets of the Búzios and Ifá, the orisha of the divination, decided to split this power between Exu and her, for her cunning and intelligence.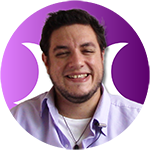 Hello! How are you? Do you already know my YouTube channel?
All content is free!
Visit the channel, subscribe and leave a comment there. I reply all!
Through the fresh water
So far from her native land, Oxum is also highly worshiped in Brazil in all Afro-Brazilian religions. People seek in her the help to solve problems of love, finance and also for protection during pregnancy.
She is associated with several "Nossas Senhoras" (like she was "faces" os the Virgin Mary) throughout Brazil. In Bahia she is considered as Nossa Senhora das Candeias or Nossa Senhora dos Prazeres. In the South of the country, she is often associated with Nossa Senhora da Conceição and in the Center-West and Southeast, she is associated with Nossa Senhora da Conceição Aparecida ou as Nossa Senhora only.